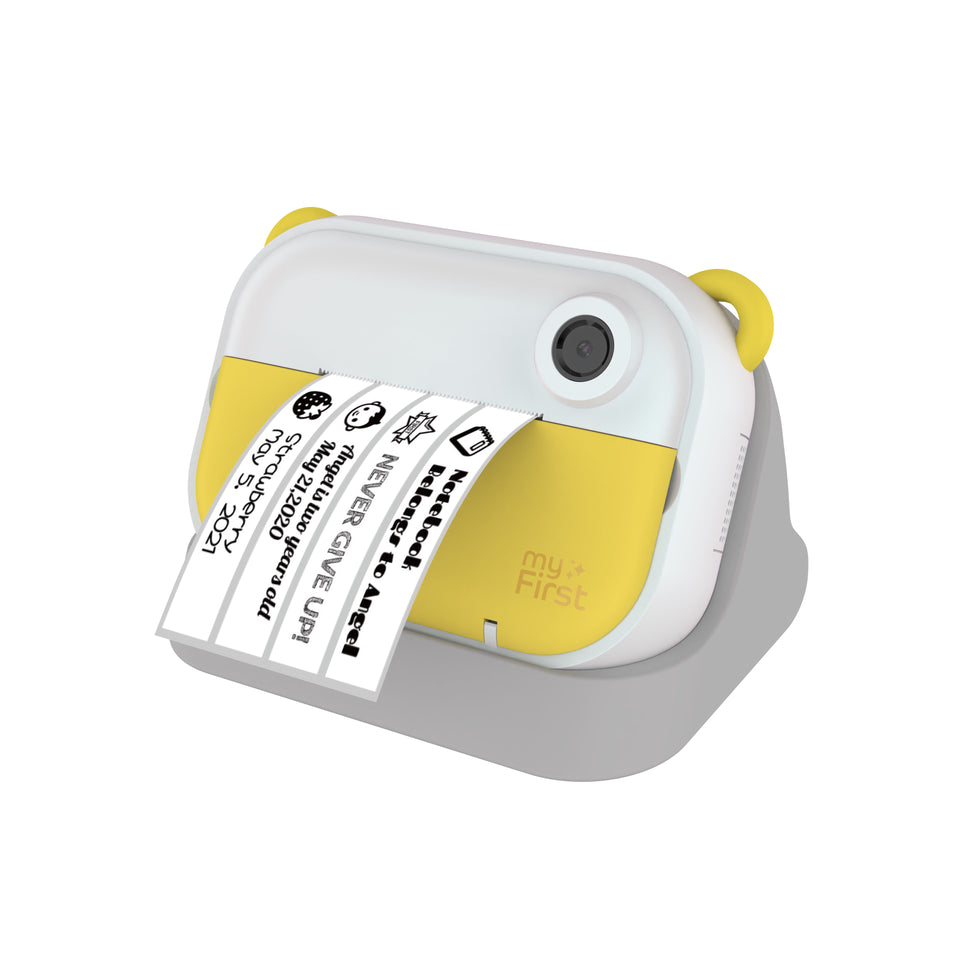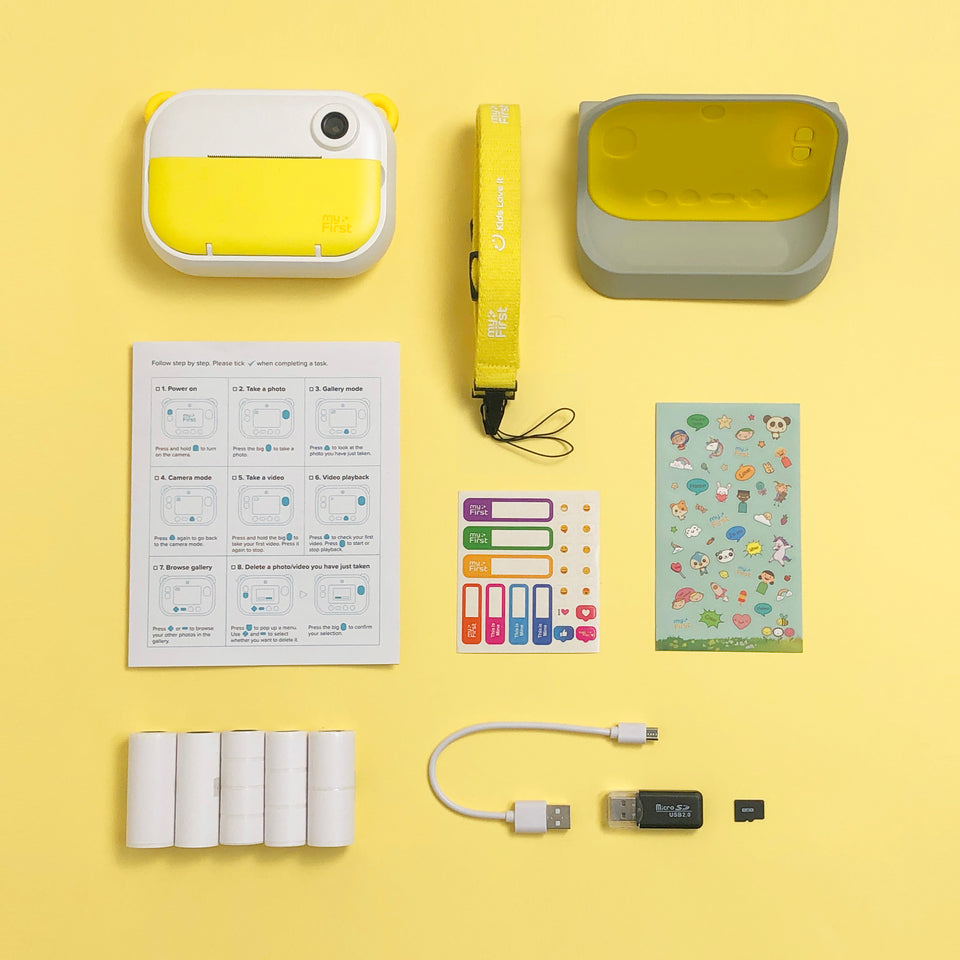 myFirst Camera Insta Wi
FC2402SA-TL01
CREATE VIDEOS & CAPTURE PICTURES with ease using this all-in-one camera and portable label printer.
PRINT PHOTOS IN 10 SECONDS, allowing you to have physical copies of your favorite memories in no time.
CREATE & PRINT LABELS of different sizes for home, school, and office with the dedicated mobile application for label editing/creation.
CUSTOMIZE YOUR LABELS with the app, making it easy to add text, emojis, and even borders to your labels.
TRANSFER IMAGES WIRELESSLY to your phone or tablet via Wi-Fi, so you can easily print your photos.
BUILT-IN RECHARGEABLE BATTERY allows for long-lasting use and easy charging via USB.
ADDITIONAL THERMAL STICKERS are available for purchase,

ensuring uninterrupted label and photo printing.
Instant satisfaction
I gifted the myFirst Camera Instant Wi to my loved one, and they absolutely loved it! They can now capture videos, take photos, and instantly print them out. It's a fantastic all-in-one camera and printer.
The ability to create labels of different sizes and customize them with text, emojis, and borders adds a personal touch to every print.
Instant satisfaction
I gifted the myFirst Camera Instant Wi to my loved one, and they absolutely loved it! They can now capture videos, take photos, and instantly print them out. It's a fantastic all-in-one camera and printer.
This camera is awesome! I can take pictures, print them out, and stick them everywhere. It's like having my own art gallery with all my memories!
It was a joy to see my grandchild's excitement when they realized they could wirelessly transfer images to their devices and print them. The myFirst Camera Instant Wi is a versatile and practical gift for capturing and sharing memories.
Unlimited
Printing
Full HD
Video
Take
Photos
Connect App
Via WiFi
Instant
Print
Customized
Labels
| Model | myFirst Camera Insta Wi |
| --- | --- |
| Weight | 232g (8.2 oz) |
| Storage | TF Card up to 32GB |
| Charging Time | 2.5 Hours |
| Batery Capacity | 1500mAh |
| Photo Resolution | 6M/9M/12M |
| Video Resolution | 1920*1080 @ 30p / 1280*720 @ 30p |
| Display | 2.4″ Color IPS |
| Video Format | AVI |
| USB | USB 2.0 |
| Paper Width | 57mm |
| Type  | Paper Roll Max |
| Diameter | 26mm |
| Front Lens Min Focusing Distance | 50mm |
| Selfie Lens Min Focusing Distance | 20mm |
The All New Instant Print Camera
Create picture-perfect moments and add a personal flair with our instant print camera and built-in label maker
Create & Print Labels
myFirst Camera Insta Wi now offers a new label-making feature that lets you create and print labels in various sizes. Label your files, documents, meal boxes, stationery, and more at home, school, or in the office.
Customization of Label
By using our templates of patterns, symbols, and icons, you can create custom labels to fit your specific needs. You can adjust icon size, add text, change font, borders and more.
Create Video & Take Pictures
This camera does it all – video, photo, and selfies. No need to flip the camera around thanks to the handy lens switcher. 12MP digital camera with rear and wide-angle selfie lenses ensure top-notch picture quality.
Wirelessly Transfer Images
Manually transferring photos from memory cards to other devices can be tedious. Connect your phone to Insta Wi via Wi-Fi for wireless photo transfer and avoid data transmission hassle.
Instant Print Photo In 10 seconds
Observe the thrill on your child's face as they receive a printout of their captured image in 10 seconds. Using thermal fast print technology, the camera produces black and white prints at a rapid pace.
Connect & Print Photos in Color
Save all photos to the memory card. To print color photos, transfer them to your mobile device or connect the camera to your laptop using a cable.
Built-In Rechargeable Battery
Many other cameras/label printer models require a battery while Insta Wi comes with a built-in rechargeable battery with a battery capacity of 1500mAh. With a full charge, kids could enjoy taking photos/videos for up to 5 hours.
Smaller In Size & We Print More
Insta Wi is much smaller in size compared to another label printer, but we are able to do more. With 57mm wide label, you could customize the font size as big you wish or you could also choose different sizes of label and print with smaller font size.
Fun Filter Frame Template
With filters and frames pre-installed in the camera, kids can snap and print cute and interesting photos or stickers to create photo albums, name tags, scrapbooks, etc. Watch your kids create their own masterpiece
myFirst Camera Insta Wi App
An app solely for myFirst Camera Insta Wi. It's downloadable on both Google Play and App Store. The Insta Wi app allows wireless label customization and printing by sending it to the camera.
Additional Thermal Sticker Available For Purchase
Your kids' safety is always myFirst's top concern. We choose better quality and BPA-free thermal paper. We also provide thermal stickers which have different finishing, such as thermal stickers with patterns, colored stickers, and also transparent stickers.
Waterproof stickers
Works with colored thermal papers
Photos Taken from myFirst Camera Insta Wi
Find myFirst Camera Insta Wi Here
Let's Answer Your Questions